Top 10 best luxury cars 2018
Luxury cars are not just defined by their cosseting ride, extensive levels of technology and refinement, but the level of prestige they bring. But which one has the most class to top our best ten list?
Luxury cars – also called executive cars – have to display a broad range of skills. These are the cars high-end executives choose to drive or, more likely, be driven in. That means they need to offer outstanding comfort both in the front and back seats, and a silky smooth ride.
High levels of in-car technology and infotainment are a must, and connectivity systems that will allow such machines to be used as mobile offices are increasingly important.
This list features cars that are both incredibly comfortable, and great to drive – the ones at the top of our rankings are capable of both.
Best luxury cars 2018
1. Mercedes-Benz S-Class
When Mercedes-Benz sets out to make a new S-Class, the brief is to make the best car in the world. While it might not seduce like a Jaguar XJ, that's not what it's for.
This car does what it's supposed to do superbly and is functionally exceptional. It was conceived as a long-wheelbase saloon, giving it unprecedented torsional rigidity, and the ride is helped by standard air suspension with adaptive dampers.
There's a choice of three petrol and one diesel engine, with standard cars sing a 9G-Tonic Plus nine-speed automatic 'box.
The S-Class is engineered to happen quietly and comfortably, it could hardly ride better, and it steers directly and precisely.
The interior is spacious and supremely comfortable, and festooned with technology, including a 12.3in screen and Mercedes' Comand Online system as standard.
As a comfortable ride, it challenges the likes of the Rolls-Royce Phantom and Bentley Mulsanne. Where the S-Class leads, the rest of the car-making world follows.
2. Range Rover
The latest Range Rover, just the fourth generation of the model, is as revolutionary as any in history, with a new aluminium monocoque and unashamedly luxury focus: it is a luxury car first and 4×4 second.
The spacious interior exudes quality and luxury, the seats are excellent and the driving position is first rate, making it easy to drive for its size. The heavy bodyshell provides excellent isolation from rough surfaces and, while it doesn't offer the driving engagement of a Porsche Cayenne, it's easy to make enjoyable, rapid progress in.
The car's weight is a small price to pay for a car of its incredible ability.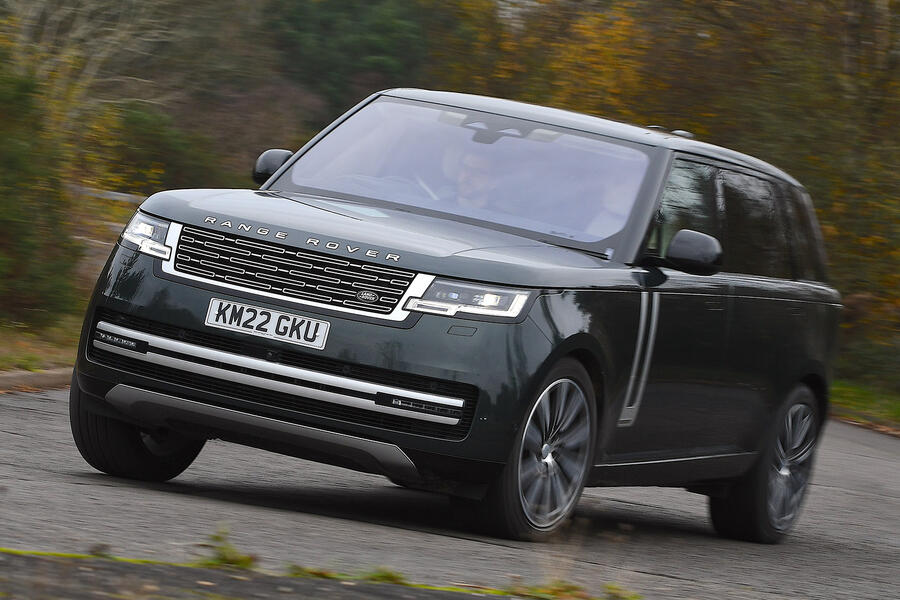 3. Tesla Model S
The first bespoke creation from electric car pioneer Elon Musk's firm, the Model S is the machine that brought credibility, luxury and useful range to the electric car market.
There are four battery options, topped by a 100kWh pack with a credible 393-mile range from the 415bhp electric motor. It can take off with the ferocity of a super saloon, but more wonderful is how precisely and effortlessly you can meter out its pace.
The Model S delivers a hugely credible steer, a large, quiet, premium cabin and massive load space, with a futuristic feel. For a select niche, it will make financial as well as environmental sense.
The latest A8 feature a more advanced chassis, powertrain and in-car technology than the Mercedes S-Class including, when it's switched on, the greatest capability for autonomous driving of any production car in the world.
There's a choice of turbocharged engines – a 282bhp diesel or 335bhp petrol – with four-wheel-drive as standard and a 48V electrical system that gives it mild hybrid status.
The quality interior feels like it was built to outlast civilization itself, although it lacks the elegance of the S-Class. The ride is smooth and it's easy to drive, although it puts up with being hustled rather than revelling in it.
5. BMW 7 Series
Since launch in 1977, the 7 Series has been in the shadow of the Mercedes S-Class, but this latest version is BMW's most committed attemp yet to fully crack the luxury saloon market, combining adaptive, fully air-sprung chassis and pioneering infotainment and convenience features with a choice of two wheelbase lengths and rear- or four-wheel-drive.
The interior trim conjures a sense of space, integrity and usability, although the fascia is a bit too similar to other BMWs. Engines are quiet, powerful and efficient, and handling is more poised and precise than rivals – although the ride isn't.
A surprisingly good driver's car, then, but it falls behind rivals in the luxury stakes.
6. Jaguar XJ
There has been a Jaguar XJ at the pinnacle of the firm's saloon range since 1968, and the most recent version is a confident, forward-looking expression of the firm's revival.
The sportiness hinted at by those sleek lines are reinforced by the excellent chassis and handling. The XJ's cabin offers a sense of class and drama German rivals can't muster, even if it doesn't compete in terms of sheer quality – and trails in terms of interior tech.
But the XJ is defined by how it drives, somewhere between the sportiness of a Maserati Quattroporte and the aloofness of a Mercedes S-Class. The result is a car with rare poise and decent performance, without too many compromises.
7. BMW 6 Series Gran Turismo
A large five-door hatchback, the 5 Series GT replacement is an interesting, if oddball, choice of luxury motor.
The 6 Series GT has the same wheelbase as the 7 Series and, despite a lowered roofline, retains the raised seating position of the 5 Series GT. The interior feels cosy and crafted, with plenty of room for four.
The 300bhp engine confidently transmits power through the all-wheel-drive system, although you need to rev it to hear the six cylinders. Add a strong ride and, while it might not be as elegant as an Aston Martin, it's exceptionally roomy and qualified as a genuine GT.
8. Lexus LS
The LS has always been a niche choice in the UK, but its success elsewhere means this latest version doesn't seek to change too much.
It's had a styling overhaul, and the interior feels both modern and luxurious, with the four trim levels offering plenty of equipment.
Dynamically, it's less convincing: the 3.5-litre hybrid V6 has to work too hard to cope with the car's 2420kg weight, and it's pleasant, rather than fun, to hustle, although the ride is good.
Against the latest S-Class, 7 Series and A8, it struggles to compete.
9. Maserati Quattroporte
With a longer wheelbase, the latest Quattroporte is now a full-sized executive limo, and taking aim at the Jaguar XJ in combining high-end comfort with a sporting drive.
It comes with plenty of kit and the interior is a class above its stablemates – although a step behind the German class benchmarks in both quality and space.
The Maserati flair helps, but it's not a match for its rivals in several key areas.
10. Hyundai Genesis
A Hyundai is always going to be a tough sell in the luxury class, and the Genesis has predictably sold in small numbers in the UK.
The Genesis has an interior better than any Hyundai before it, with a very good fit and finish, and equipment levels that matches more prestigious German rivals.
Europe gets a 3.8-litre engine, driven though an eight-speed gearbox. The ride is smooth, but zest is hard to come by – it's not particularly rewarding. It's an ambitious car from Hyundai, but it's out of its depth in this class.
source : https://www.autocar.co.uk/car-news/best-cars/top-10-best-luxury-cars